What To Expect For Piercing Trends in 2022
BY SAGETATTOOGALLERY | UNCATEGORIZED
This year, more people than ever are feeling the urge to express themselves and change up their individual style. Years stuck inside on zoom calls have inspired many to express themselves in creative ways and body piercing has become more popular than ever. 
If you've been thinking about a new piercing, now is the perfect time to go out and get one for the new year. In this post, we'll discuss some of the new body piercing trends that you can expect to see in 2022. 
Piercing Trends in 2022
Flat Helix
Ear piercing in 2022 is all about customization and people are asking for multiple piercings at the same time. They are also getting piercings on different parts of the ear. Part of this trend is getting piercing done on the flat helix part of the ear. The flat helix is in the upper cartilage of the ear and has a flat appearance. Ask your piercer about the best placement for your ear. 
The benefit is that you can add multiple holes and experiment with different types of jewelry. They also don't need to be symmetrical, which means that you can add a stud here, a hoop there, a fun initial or whatever you want to show your individual style. 
Asymmetrical Piercings 
Another big trend in ear piercing is asymmetrical piercings. If you want to get an extra hole in your left ear and not your right? Go for it. Want to wear a chain through your left lobe and have double or triple helix piercings and a single hole on your right? Mix and match gold and silver, pearls and titanium. Go for it. It's all up to you. 
Asymmetrical piercings let you customize your look to your heart's desire. One thing to consider is that you should only have one ear pierced at a time so that you have one side of your head to sleep on that won't irritate your new piercings.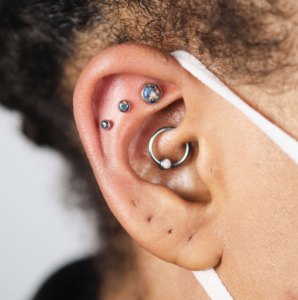 Snake Bites
Snake bites are a type of piercing that places two holes next to each other on the ear cartilage to give the appearance of the fang marks of a snake. This trend was first spotted in 2019, but we predict it will continue along with more unique placement of the holes. 
Different Sizes in Body Jewelry
Another trend to look out for in 2022 is different sizes in body jewelry. This can mean mixing and matching different sizes of earrings in multiple ear piercings or it could mean experimenting with different gauge sizes. Piercings will have specific gauges for the needle when you have the piercing done and it is important to use jewelry that has the same gauge or thickness to help the piercing heal. 
Once the healing is done, however, many people like to experiment with thicker gauges or change up their body piercing jewelry. Remember the lower the number, the thicker the gauge of metal, so a 20 gauge (what you would use to pierce ear lobes) is much thinner than a 16 gauge. Using thicker gauges of jewelry has become more popular in the last few years and is a trend likely to continue in 2022. 
If you are looking for ideas or need some help getting started, come talk to us at Sage Piercing. If you need an expert opinion or just simply want our suggestions, our professional team of piercing experts would be happy to help you decide on which piercing would suit you best and walk you through pain expectations. Take a look at our Instagram account for more inspiration and book an appointment with us today!